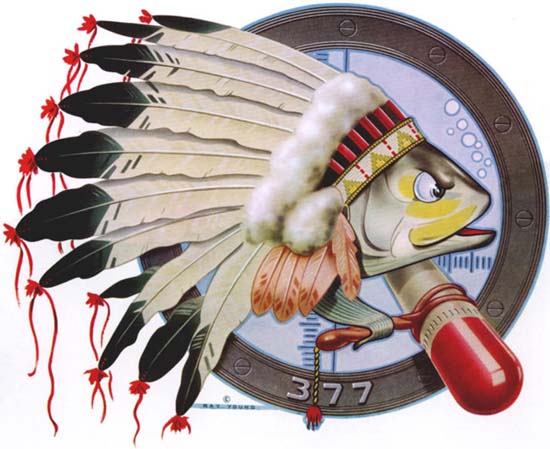 Ray Young's Original Artwork for the USS Menhaden (SS-377) Emblem.
(Image Courtesy of Bill Young, son of Ray Young)

PUGNACIOUS INSIGNIA FOR DEADLY BOATS
Each American submarine crew went to war with a fanciful emblem, usually one that caricatured the fish or sea creature after which the boat was named. The men took the same pride in their identifying design that U.S. air crews did in the gaudy figures they painted on their bombers.
There was a difference, however. The submarines, whose very survival depended on stealth and concealment, were denied any exterior decorations or markings that might attract the enemies attention. Instead, the crewmen put their emblem on specially printed stationary, on patches that adorned their foul-weather jackets and on their battle flags, which the boats displayed only as they neared the safety of their home ports.
Since the emblems were unofficial, the origins of many went unrecorded. But the Walt Disney Studios donated insignia for a number of boats, and Ray Young, a designer for the Manitowoc Shipbuilding Company, created 14. Young submitted his emblems for the approval of the crews at the time of their boats commissioning. All the crews were delighted by the pugnacious look of the fish. "The more vicious you could make them," Young recalled, "the better they liked them."
(Above Comments Extracted from the Time-Life Book, "War Under The Pacific." Copyright, 1980)