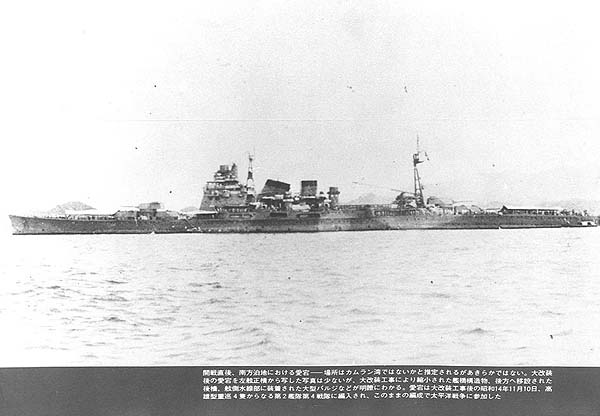 Japanese heavy cruiser Atago in 1941, sunk by torpedoes from USS Darter (SS-227) on October 23rd, 1944.
(Photo Courtesy of National Institute for Defense Studies. Tokyo, Japan)
Atago Class Heavy Cruiser
Year Completed: 1932
Displacement: 15,781 tons
Dimensions: 661'8" x 68'0" x 20'9"
Speed: 34 knots
Armament: 10 x 8"/50; 8 x 5"/40 DP; up to 66 x 25mm AA; 16 x 24" TT
Crew: 773
Source of name: Atago -- a mountain near Kyoto
Atago's construction at the Kure Navy Yard began in 1927. Launched on June 6th, 1930, outfitting had been completed on March 30th, 1932. After modernization work was finished in 1939, her length was 661-feet, 8-inches, with a beam of 68 feet and a draft of 20.9 feet. Atago's main mast had been moved to the rear, behind the catapults. The forecastle deck had been extended and aircraft stowage was revised. Complement: 773 men.
Powered by four sets of GT 12 Kampon boilers producing up to 130,000 horsepower that drove her four propeller shafts to a speed of 34.2 knots. Cruising range of 8,500 miles at 14 knots. Armament: torpedo launchers had been doubled in size to 4x2 610mm rotating turrets, ten 203mm (8-inch) 50-cal. guns, eight 127mm (5-inch) 40-cal. high altitude guns, eight 25mm anti-aircraft guns, four 13.2mm AA guns, three aircraft and two catapults.
The increased weight of modifications and increased armament brought Atago and Takao displacements to 15,781 tons each. Chokai-class heavy cruisers, including Maya, had similar retrofits in 1941 that brought their displacement to 14,838 tons. They were thirty feet shorter in length than Atago and Takao.
(The above information is from John G. Mansfield, Jr.'s book, "Cruisers for Breakfast."
Copyright, October, 1997.)