AWARDS RECEIVED
THIS SITE WAS CREATED TO TELL THE STORY OF THE USS MENHADEN (SS-377)
I DIDN"T EXPECT TO BE GIVEN ANY AWARDS FOR IT!
BUT, THEY ARE SINCERELY APPRECIATED, NONETHELESS!


January 19th, 1998
Robin "The Brat" Ator, Webmaster of DAISEY DUKE'S MILITARY TRIBUTE PAGE, wrote:
"Oh! And I have attached something else that can be seen on a few Bubblehead pages and your new
site must have it also! . . . I only give it out to those who really deserve it! :)"
Daisey's Hero Award
Designed for the Enlisted Submariners who rightfully earned their Silver Dolphins the old fashion way.
Thank You, Brat!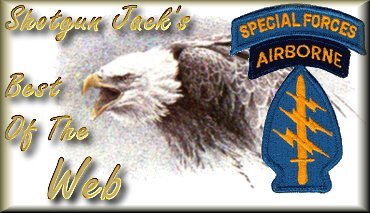 January 21st, 1998
Another unexpected award! From my brother, John "Shotgun Jack" Carpenter, Webmaster of
SHOTGUN JACK'S HOME PAGE. The Citation read: "Please accept the following Award
from a "fellow" WEBMASTER, for all the work you have done on your site."
Thank You, Bro!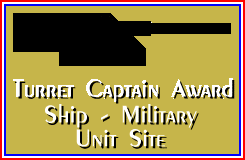 April 11th, 1998
Paul D. Henriott, CWO, USA, Ret., Webmaster of the USS OAKLAND (CL-95) and
the ANTIAIRCRAFT CRUISERS Web Site, wrote: "I am presenting you the
Turret Captain Ship/Unit Award. Enjoy it for you deserve it for your effort."
Click here, or the lower Award image, to view the complete Certificate
Thank You, Paul!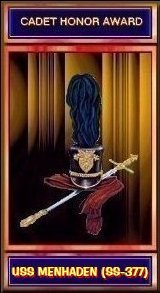 April 28th, 1998
To Qualify for the "Cadet Honor Award,"
your Website must be:
1. Patriotic in it's Theme and Reflect Love of Country
2. Show Support of the Military and Concern for Veterans
Scott A. Tackett Sr., Webmaster of the TACKETT FAMILY HOME PAGE, wrote:
"It is with Pride and Gratitude that The Tackett Family presents this Award to your
Outstanding Patriotic Website, USS MENHADEN (SS-377)."
Thank You, Scott!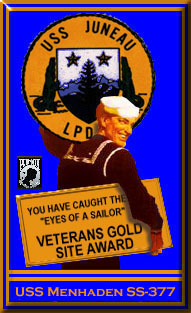 July 29th, 1998
Jim Moran, Webmaster of the "Eyes Of A Sailor - USS Juneau (LPD-10)" Amphibious
Assault Ship Web Site, wrote: "Please accept this very humble award for a job well done.
This is a tribute to you and your mates."
Thank You, Crazy Jim!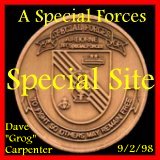 September 2nd, 1998
Robby Robinson, Webmaster of ROB'S MACV-SOG HOME PAGE, wrote:
"Please accept this award. There will only be 12 of these awards presented to sites that I have found
to be exceptional in their dedication to furthering the cause of all military personnel, POW/MIA issues
and those sites that are dedicated to maintaining the history of the Armed Forces.
"The number twelve is significant in Special Forces as it is the number of team members on an "A" Team,
the core of all Special Forces units. Due to the outstanding quality, content and design of your pages, I am
pleased to include you among the roles of this elite group. Thank you, for your dedication and patriotism."
Thank You, Robby!