EVERYTHING ABOUT GROG -- ALMOST! :-)
In the Spring of 1959, just before graduation from Mira Costa High School in Manhattan Beach, California, I read an article in the newspaper about the USS Nautilus (SSN-571), the first nuclear submarine to go under the North Pole. I decided right then that that was what I wanted to
do, so in September of 1959, after I had helped my family move to Crawfordsville, Oregon, I enlisted in the Navy under the Nuclear Power Program.
Three weeks into "boot camp" at the Naval Training Center in San Diego, California, my eyes were tested and it was determined that I had a vision of 20/20 in my right eye and 20/25 in the left, uncorrectable with lenses, so I was disqualified from submarine duty. My enlistment was changed from Nuclear Power to High School Graduate, which still guaranteed me a Class "A" School.
After "boot camp," I went to Interior Communications Electricians School, where I graduated Honor Man of the class. That distinction earned me a choice of duty assignments, so I chose submarine duty again and received orders for Submarine School in New London, Connecticut.
Shortly after my arrival at the Submarine Base, once again I was disqualified from sub duty because of the vision in my left eye. I spent the summer as a messcook in the "spud locker" at the Base Galley. After completing 101 days of messcooking, I was assigned to the USS Glacier (AGB-4), an icebreaker out of Boston. A month later, we headed south for "Operation Deep Freeze" in Antarctica. While down in the ice, we received a radio message that IC Electricians were needed in submarines, so . . . once again I volunteered for submarine duty.
When we returned to Boston in the Spring of 1961, I had orders for Submarine School one more time! Back to New London! Fortunately for me, the Corpsman doing the eye test wasn't checking that close, and I passed the physical. On August 23, 1961, I completed Basic Submarine School in Section 102, Class 232, and after Advanced Submarine School - Electrical, I was then assigned to the USS Menhaden (SS-377) out of San Diego, California.
When I arrived in San Diego, the Menhaden was up in Vancouver, B.C., so I temporarily spent seven weeks aboard the submarine USS Sea Fox (SS-402) until the Menhaden returned in early December. I served aboard the Menhaden until August of 1963, attaining the rate of IC2(SS), then got out of the Navy.
I worked in a plywood mill in Sweet Home, Oregon, for a year, then went to Central Oregon College in Bend for nine months, where I received a Certificate as a Forestry Aide. My first job with the U.S. Forest Service was with the Bear Valley Ranger District, Malheur National Forest, in John Day, Oregon, as a Log Scaler and Timber Cruiser.
In March of 1966, after a six-week temporary duty assignment, I transferred permanently as a Forestry Research Technician to the Timber Quality Research Project, Pacific Northwest Forest and Range Experiment Station, in Portland, Oregon.
In July, 1972, in order to get a promotion, I transferred again to the U.S.F.S.'s Forestry Science's Lab in Flagstaff, Arizona, as the Timber Technician on the Beaver Creek Watershed Multi-Resource Evaluation Project. It was part of the Rocky Mountain Forest and Range Experiment Station, headquartered in Fort Collins, Colorado.
In October, 1983, the Beaver Creek Project was shutdown after 27 years of research, and I was assigned to the Prescribed Burning Research Project, also in Flagstaff. In March of 1987, to supposedly consolidate forest fire research in the West, my position in Flagstaff was abolished, and I was given a "directed reassignment" to the Fire Research Lab in Riverside, California, of all "gawdawful" places!
I did not want to go and live there for the next ten years! So, with over 26 years of Federal service, counting my time in the Navy, I chose to retire early. For the first three years of retirement, I worked as a River Guide for a commercial river running company here in Flagstaff, Worldwide Explorations, until they went bankrupt!
Now, I go on private river trips with friends when I can. And, occasionally, I drive vehicle shuttles for other people who are going on river trips. You know, I'm just plain "messing around" . . . not doing much of anything! With the possible exception, of course, of constantly adding stuff to this Web Site. It has turned into nearly a full time job now . . . with no pay! :-)
By the way, perhaps you are wondering how I came by the name of "Grog"? I adopted the name from a character in a syndicated cartoon strip, "B.C." by Johnny Hart, in the local newspaper. I have a remarkable resemblance to the "uncivilized, bearded, mangy-looking, little Neanderthal varmint"!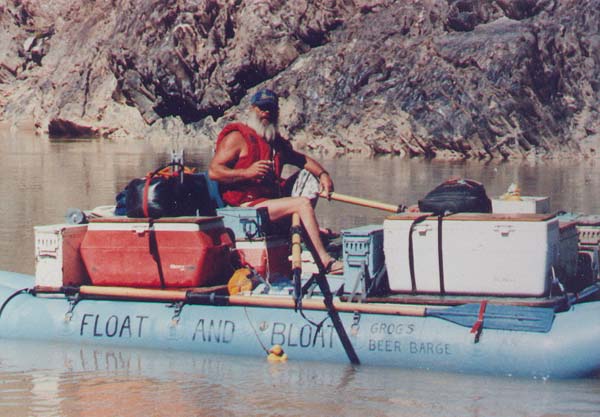 Grog on his 18-foot river raft, just "floating and bloating" on some "flatwater" between the "whitewater" rapids. Colorado River in the Grand Canyon, October, 1990.
Are you wondering,"What is whitewater?" Try this! Grog's "Run" in Lava Falls Rapid! Please be patient. It may take a while for the sequence of photos to load. It should be worth the wait, though!
Have you ever done anything "really stoopid" in your life? I have, many times. Without a doubt, though, the "stoopidest" thing that I've ever done was, on a bet from a friend, I came out of the chute on a rodeo bull! To document the event, I wrote a story entitled: Bull Rider. I'm really not much of a writer, but the story and the "peekchurs" might be worth a giggle or two!