USS DACE (SS-247)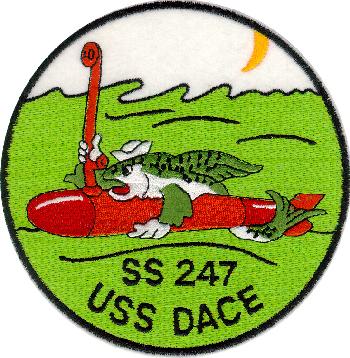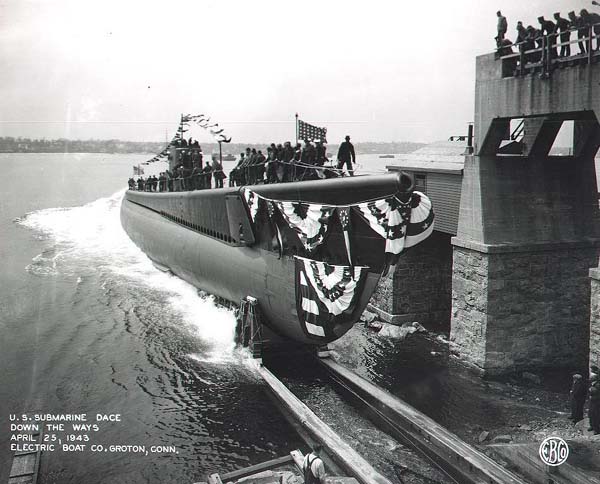 USS Dace (SS-247), "Down the Ways," April 25th, 1943.
(U.S. Navy Official Photo)
Gato Class Submarine
Displacement: 1,526 tons (surfaced), 2,410 tons (submerged)
Length: 311'9" Beam: 27' Draft: 17' (mean)
Propulsion: Diesel engines, surfaced; Electric motors, submerged
Speed: 20 knots surfaced, 8 knots submerged
Armament: Ten 21-inch diameter torpedo tubes (6 forward, 4 aft),
One 4-inch/50, two 50 cal. and two 30-cal. guns on deck
Test Depth: 300 feet
Complement: 78 (8 Officers, 70 Enlisted men)
The USS Dace's keel was laid on July 22nd, 1942, at the Electric Boat Company, Groton, Connecticut. She was launched on April 25th, 1943, and sponsored by Mrs. O. Pomeroy Robinson, wife of the General Manager of Electric Boat, who christened the new submarine.
The USS Dace (SS-247) was commissioned on July 23rd, 1943.
COMMANDING OFFICER
Lieutenant Commander Joseph F. Enright
OFFICERS
Lieutenant Commander William G. Holman, Executive Officer
Lieutenant Charles R. Clark, Jr., Engineering Officer
Lieutenant Herbert D. Thornton, Gunnery Officer
Lieutenant (jg) Francis P. Thomas, Commissary Officer
Ensign Earl T. Jones, Assistant Engineer
Ensign Charles C. Erhard, Communications Officer
CHIEF PETTY OFFICERS
Arthur J. Hansen, CMoMM
Daniel D. Lairsey, CEM
Llewellyn L. Mincher, CSC
Howard A. Murphy, CTM
Charles M. Younger, Jr., CMoMM
ENLISTED MEN
Robert F. Anderson, EM2 Charles M. Blair, S2/c
Wayne L. Boten, MoMM2
Dallas G. Bowden, EM2 James A. Brewer, QM2
Creighton F. Butler, MoMM2
Charles E. Daniel, TM1 Robert M. Diltz, GM2
Cassel J. Evans, S2/c
Thomas J. Feeley, EM2 Leo J. Feeney, F2/c
William J. Feeney, QM3
Lyman H. Fitzgerald, MoMM1 Paul E. Flinkstrom, TM3
Howard B. Gordnier, MoMM2
Henry J. Gourley, S2/c Robert L. Grant, EM1
Ellis H. Hendrix, PhM1
Devillo G. Hunter, SM1 Lorenzo Irving, StM3 John H. Jemison, RM1
Malone S. Jones, MoMM2 Donald J. Kelly, MoMM2 Emil J. Kodis, RM2
Charles A. Lindsey, MoMM1 Everret G. Longnecker, EM2 Daniel E. Masler, TM1
Robert M. Meek, MoMM1 Lester P. Miller, TM2 Frank A. Monroe, Jr., MoMM1
Roger W. Morse, Y1 Francis Murnane, TM2 Lawrence C. Muth, S1/c
Alfred J. Myers, S1/c Lee B. Parden, EM1 Elliot Pendas, TM3
Russell B. Proctor, S2/c Ray D. Reynolds, MoMM2 William D. Robertson, MoMM2
Francis E. Ruth, Jr., SM3 James E. Sanders, S2/c Warren B. Sargent, S2/c
John C. Smith, TM3 Everett K. Stallard, RM2 Edward J. Stashluk, MoMM2
Jack E. Stephenson, S2/c Homer Strickland, F3/c Stanley Trytko, RM3
Francis J. Ventgen, TM3 Louis Vieria, Jr., F1/c James M. Ward, F1/c
John O. Ward, S2/c Namon Welch, StM1 Walter M. Welch, EM3
James F. West, F1/c Thomas M. Wheeler, TM2 Ralph C. White, S2/c
Richard J. Willard, F3/c William O. Williams, FC3 Herbert R. Williamson, S2/c
William C. Wilson, F2/c William P. Windsor, EM3 Carroll L. Wright, RT2
Walter B. Yedinak, F3/c Vincent J. Zolkowski, EM3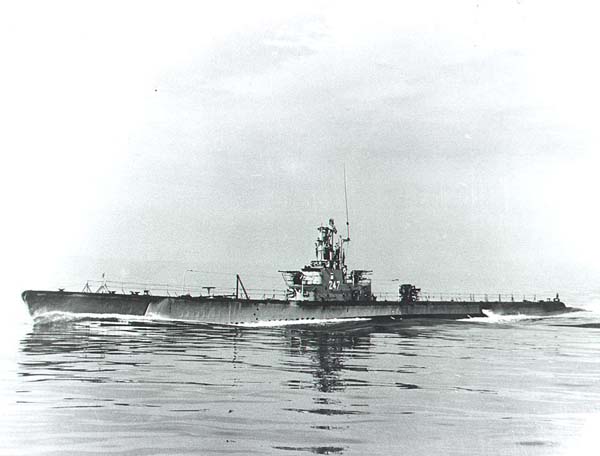 USS Dace (SS-247) in 1943.
(U.S. Navy Official Photo)

After commissioning, the USS Dace spent two weeks in the New London area, testing the boat and training the crew. More than fifty percent of the crew were "non-qualified newbies" right out of Submarine School. On August 9th, she put to sea for the first time on a short trip to Newport, Rhode Island. Dace spent a few days there test firing torpedoes, then returned to New London. Prior to her arrival, she made her first deep dive.
On September 6th, 1943, Dace got underway for Pearl Harbor. She stopped for a few day at the Sub Base, Colon, Canal Zone, and arrived in Pearl Harbor on October 3rd. The long trip necessitated some repairs alongside the submarine tender Bushnell, as well as modifying some of her equipment.
FIRST WAR PATROL
On October 20th, 1943, Dace departed Pearl Harbor on her first war patrol along the southeast coast of Honshu and the approaches to Nagoya, Japan. Enroute, she experienced problems with #2 main engine, which was repaired by the USS Sperry (AS-12) at Midway Island Oct. 24-27, before continuing her patrol. On November 7th, Dace fired four torpedoes at a large cargo vessel, but missed. Minutes later, she damaged an oiler in the same convoy, which turned in toward the beach.
Captain Enright received an ULTRA message from COMSUBPAC giving him the predicted position of an enemy carrier. On the 15th, following orders instead of relying on his own plot, Dace was in the predicted position, and a Shokaku-class aircraft carrier and three destroyers passed just out of torpedo range, moving too fast for the sub to overhaul. A missed opportunity!
At 1800 on November 19th, while still submerged, a tanker and an escort were sighted. The tanker became suspicious and turned away, but the escort located Dace and attacked with depth charges. Within an hour, three more patrol boats joined in and continued a heavy depth charge attack until 2100 hours, when they left the area. No more worthwhile targets were found, and Dace ended the patrol at Midway Island on December 11th. The patrol was deemed "unsuccessful" and no Submarine Combat Insignia was awarded.
Based upon what he considered "an unproductive patrol," Lieutenant Commander Enright asked Captain J. B. Longstaff, Midway's senior submarine officer, to be relieved of command. He had a brand new submarine with the latest in advanced equipment, a well qualified crew and an opportunity to sink an enemy ship, so he blamed himself for the boat's poor performance. On December 28th, Enright's request was granted and he was assigned to command a relief crew. On January 1st, 1944, Joseph Enright was promoted to full Commander, then became XO of Midway's Sub Base. Later, Commander Enright returned to sea to command the USS Archerfish (SS-311), which sank, on November 29th, 1944, the Japanese "super-carrier" Shinano. It wasn't learned until after the war ended that the Shinano was the largest warship in history to be sunk by a submarine.
SECOND WAR PATROL
On December 28th, 1943, Commander Bladen D. Claggett took over as the Commanding Officer of the USS Dace. Dace departed Midway on her second war patrol on January 7th, 1944, assigned to support "Operation Hailstorm," the designated name for the upcoming carrier strike on the island of Truk. On the 18th, she entered her assigned area located between the Bismarck Archipelago and the Caroline Islands, patrolling on the surface in the Palau-Truk convoy routes.
On the night of January 26th, contact was made on a large tanker with two large destroyers as escorts; one forward and one aft. Dace, on the surface, tracked them for three hours, then went in for an attack. A light rain squall had set in as the sub passed successfully behind the lead escort. Claggett fired six torpedoes at the tanker with ranges of 3,200 to 2,700 yards. A couple of minutes later, two violent explosions were heard, but no flashes were seen because of the rain squall obscuring visibility of the target. The tanker fired red rockets; then three more explosions were heard. After being chased by the aft escort until it gave up, the Dace turned back toward the target and observed the 10,000-ton tanker still on the surface and making 16 knots. Unable to catch up with it before daylight, and running dangerously low on fuel, she filed a contact report and resumed her patrol. The cause of the explosions remains unknown because Japanese records show no ship damaged in that area on that date.
Dace arrived in Tulagi to refuel on February 2nd, with only 3,000 gallons remaining in her fuel tanks. The next day, she departed to resume her lifeguard duties south of the Caroline Islands near Truk. On the 11th, she made contact with a convoy of three small ships, guarded by two sub-chasers. They were not large enough to waste torpedoes on, so no attack plan was considered. From February 12th to the 17th, Dace accompanied other submarines in support of carrier aircraft strikes on Truk Island. On February 25th, Dace ended her second war patrol at Milne Bay, New Guinea, where she began a refit. During the patrol, the weather was mostly overcast, she remained on the surface for most of it and sighted 21 aircraft.
THIRD WAR PATROL
On March 16th, 1944, Dace left Milne Bay, New Guinea, on her third war patrol. On the 18th, she arrived at Langemak Bay on a secret mission to pick up Lieutenant G. C. Harris of the Royal Australian Navy and his band of guerrillas that they were going to drop off at Hollandia, New Guinea.
For two days, a Navy photographer, brought on board for the special mission, took pictures of the beaches and terrain around Biak Island, offshore of New Guinea. At eight o'clock in the evening on the 20th, when Dace surfaced to disembark Harris and his men, Japanese truck headlights and searchlights were seen on the beach, so she went around to the other side of the island, and the guerrillas went ashore in two groups. More photos were taken of the coast, and because nothing was heard from the commandos during this period, Dace left the area.
After refueling at Manus, Admiralty Islands, Dace joined others subs in a patrolling line from the Celebes to an area south of Mindanao. Due to problems with her radar, several times she was caught on the surface and attacked by enemy planes. On March 31st, in Davao Gulf, suddenly a Japanese "Betty" bomber came out of some low clouds and straddled her with two bombs before she could submerge. Two days later, the same thing happened, but no damage was inflicted either time.
An enemy carrier left Davao Gulf on April 5th, but was too far out of range to make an attack. The next night, Dace made contact with three cruisers, escorted by four destroyers. When they came within a range of 3,000 yards, she fired a spread of two torpedoes at each of the cruisers. All of them missed their targets because the speed of the cruisers had been underestimated, and the TDC operator had forgotten to cut in the gyros! The following night, a freighter was sighted, but the Dace was spotted by its PC escort and depth charged before she could attack.
On the 10th of April, Dace was ordered to make contact with the USS Scamp (SS-277), which had been hit by a bomb from a Japanese plane three days before when she surfaced to send a contact report on a task force of cruisers and destroyers. Dace met up with her and escorted the seriously damaged submarine back to Manus. After refueling, Dace headed back to her patrol area.
On May 2nd, Dace made contact with a tanker and two destroyers. As it was getting light in the East, she fired five torpedoes at the tanker from 5,500 yards away. Just then, a destroyer appeared and began firing salvos from it's gun turrets at the sub, so she submerged and evaded. (Note: My source book failed to mention the results of the attack on the tanker.)
On the 13th of May, Dace ended her third war patrol in Brisbane, Australia, where she underwent an extensive refit. The patrol was considered successful for purposes of awarding the Submarine Combat Insignia.
FOURTH WAR PATROL
The USS Dace departed Brisbane for her fourth war patrol on June 13th, 1944. She conducted training exercises while enroute to Manus to refuel, arriving there on the 20th, then leaving the next day for her designated area in Davao Gulf and Mindanao. Dace patrolled submerged close to the Mindanao coast during the day and on the surface at night. There were a great number of plane contacts indicating considerable activity in Davao Gulf.
In the afternoon of July 9th, Dace made contact with a large transport and two escorts. Five minutes later, she fired six torpedoes at a range of 3,200 yards, three of which were heard to hit. Just before taking evasive maneuvers, the target was seen listing to port, surrounded by smoke. Then, moments later, two explosions were heard which sounded like they were internally originated from the target. Four minutes later, depth charges began dropping from the escorts in patterns of from five to eight. A total of 43 were dropped, some close and others not so close, but no damage was inflicted on the boat before the escorts gave up.
On July 16th, Dace penetrated Sarangani Bay and took periscope photographs, continuing on to patrol the entrance to Davao Gulf, into Lebak Harbor, but found no ships. She searched Cotabato, then went around to Pagadian on all four engines, seeking more enemy targets.
Just after dawn on July 26th, smoke was seen on the horizon. The contact was chased all day, with Dace being forced to submerge eight times to avoid detection by aircraft. Their own record for making the quickest dive to date was thirty-eight seconds. Shortly after dark, contact was reestablished and just past midnight, while on the surface, Dace fired six torpedoes from her bow tubes into a convoy of three merchant ships and six escorts. One tanker was sunk. Dace was forced to submerge to avoid being rammed by an escort, and fired four torpedoes from the stern tubes as they went deep. Those torpedoes were ineffective, as were the 26 depth charges the frustrated escorts dropped on the elusive sub.
In the afternoon of July 31st, a submerged attack was made on a small unescorted freighter. One hit sank it at once, as one torpedo exploded prematurely outside of the ship. The next morning, Dace fired her last four torpedoes at a medium-sized freighter that was accompanied by four escorts. The shots missed the target, though torpedo explosions were heard, the timing of which indicated they hit the beach. Meanwhile, the escorts dropped ten depth charges, and a large explosion, believed to be an aerial bomb, shook the boat.
Dace evaded the escorts and arrived in Manus on August 6th. The next morning, she got underway again, and despite encountering very heavy seas in the Coral Sea, she arrived in Brisbane on August 12th, tying up alongside the Darter, thus to end her fourth war patrol. Thirty-two ship and 58 air contacts were logged, two ships sunk and one damaged totaling 13,200 tons. Dace was awarded the Submarine Combat Insignia. In addition, Commander Claggett and Lieutenant Commander Holman were awarded the Bronze Star Medal.
(Note: The above information is from John G. Mansfield, Jr.'s book, "Cruisers for Breakfast."
Copyright, October, 1997)
FIFTH WAR PATROL
Dace cleared Brisbane 1 September 1944 on her fifth and most successful war patrol. She topped off her fuel tanks at Darwin on the 10th, and sailed for the exacting task of sweeping mines in Palawan Passage and Balabac Strait. Between 27 September and 3 October, she put in to Mios Woendi to repair her gyrocompass, returning to her patrol area 10 October. Four days later, she attacked a convoy of seven ships, sinking two and heavily damaging a third. She now joined Darter (SS-227) in a feat of skill and courage which brought both submarines the Navy Unit Commendation. On 23 October they contacted the Japanese Center Force approaching Palawan Passage for the attack on the Leyte landings which developed into the decisive Battle for Leyte Gulf. Since the location of this force had been a mystery for some time, the contact report flashed back by Dace and Darter was one of the most significant of the war. The two submarines closed the task force, and Darter attacked first, sinking the flagship, cruiser Atago. Now Dace sent her torpedoes away, although heavy depth charge attacks by the destroyers were beginning. She sank the heavy cruiser Maya, then went deep to avoid the counterattack. Continuing to track
their target, hoping for a change to finish off the cruiser Takao previously damaged by Darter, the two submarines worked through treacherous Palawan Passage. Darter went aground, and Dace stood by. With the area full of searching enemy ships, Dace took Darter's men off, then fired torpedoes at her to destroy her. Before she had completed her work, she went deep to avoid a patrolling Japanese aircraft, which obligingly bombed the abandoned Darter. Dace sailed on for Fremantle, arriving 6 November.
SIXTH WAR PATROL
Dace cleared Fremantle 2 December 1944 on her sixth war patrol. She scouted along the Singapore-Hong Kong shipping lane, then sailed on to mine the channel between Palau Gambir and the mainland. Finishing her task 16 December, Dace heard loud explosions from the mined area late in the afternoon, indication of a job well done. Three days later, while preparing to attack an eight-ship convoy, Dace was violently shaken by four depth charges or bombs. She went deep, hitting bottom, and while waiting there for the escorts to break off their attack was bumped, turned, scraped, and clanked along the bottom by the strong current. Somehow the enemy did not detect her for all this noise, and she was able to surface later, repair minor damage, and sail on to patrol farther north. On 28 December she sank Nozaki, a naval auxiliary, and damaged a freighter in the same convoy. The collier Nozaki, estimated at 1,000 tons, was the last Japanese merchantman to be sunk by a submarine in 1944. Dace put in to Saipan for fuel on 17 January 1945, and reached Pearl Harbor, Hawaii, on 28 January.
SEVENTH WAR PATROL
After a west coast overhaul, Dace sailed from Pearl Harbor 25 May 1945 on her seventh war patrol. She fueled at Midway 29 May, and entered her patrol area in the Kurile Islands 7 June. Here she sank two sailing ships by gunfire, then headed into the Sea of Okhotsk. On 10 June she detected a large freighter and a small tanker sailing through the fog. Making her run into attacking position, she saw the convoy also included three escorts, but continued to close the freighter, firing her first spread at only 380 yards. She swung to fire at the tanker as the freighter exploded and sank, then was confronted by an escort apparently planning to ram. Dace fired a torpedo "down the throat" of the escort, and plunged deep. A severe depth charging followed, after which Dace fired again at the escort. She returned to Midway 25 July. The Dace crew then spent two weeks at the rest camp on Midway Island.
EIGHTH WAR PATROL
Dace sailed on to Saipan 13 August, preparing for her eighth war patrol. With the end of hostilities, Dace was ordered back to Pearl Harbor, and on 5 October 1945 arrived at New London. She was placed in commission in reserve at Portsmouth Naval Shipyard 15 January 1946, and was towed to New London, where she was placed out of commission in reserve 12 February 1947.
Recommissioned 8 August 1951, Dace operated from New London along the Atlantic Coast and in the Caribbean until placed in commission in reserve at New London 31 December 1953.
She was placed out of commission in reserve at Portsmouth Naval Shipyard 15 January 1954 for extensive modernization, then was recommissioned 22 October 1954. After training men of the Italian Navy, she was decommissioned at New London 31 January 1955, and transferred to Italy under the Military Assistance Program the same day. She serves in the Italian Navy as Leonardo Da Vinci (S-510).
In addition to the Navy Unit Commendation, Dace received seven battle stars earned during her seven war patrols, the last five of which were designated as "successful." She is credited with having sunk 28,689 tons of Japanese shipping.
(Note: The information above for Dace's Fifth through Seventh War Patrols, and the remainder of her history, is from the Dictionary of American Fighting Ships. Transcribed by Yves HUBERT.)