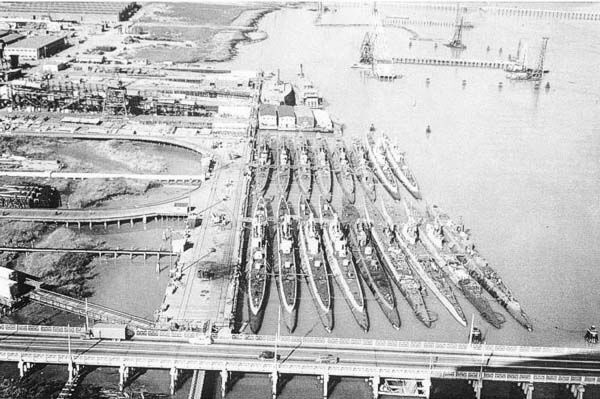 "Mothballed" Submarines at the Mare Island Naval Shipyard in January, 1946.
Note: At the bottom of the photo is the causeway between Vallejo and the shipyard. At the top of the photo, which is looking north, one can see the two permanent piers being built for the reserve fleet. These were referred to as North and South Piers, and they could moor two rows of submarines between the piers. When these piers were completed in 1946, five rows of inactive submarines were permanently moored there. On the opposite side of the piers, or the west side, were four inactive submarine tenders.
(Official U.S. Navy Photograph taken by Mare Island Naval Shipyard. The original negative of this photograph is at the National Archives in San Bruno, California, in the photo collection from Mare Island)
(Above Information Courtesy of Larry R. Cote, Naval Researcher, from Stockton, California)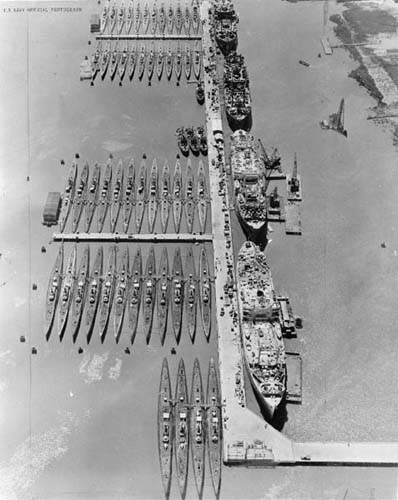 "Mothballed" Submarines and Submarine Tenders at the Mare Island Naval Shipyard in late 1946. In the left center of this photo, there appears to be a floating shed at the end of the pier. The second submarine to the right of the floating shed is the USS Menhaden (SS-377).
(Official U.S. Navy Photograph taken by Mare Island Naval Shipyard)
Submarines in Top Row (Left to Right): USS Sandlance (SS-381), USS Tunny (SS-282), USS Aspro (SS-309), USS Lionfish (SS-298), USS Guavina (SS-362), USS Sunfish (SS-281), USS Macabi (SS-375), USS Gurnard (SS-254), USS Pampanito (SS-383), USS Mingo (SS-261), USS Guitarro (SS-363), USS Bashaw (SS-241)
Submarines in Second Row from Top (Left to Right): Sealion (SS-315), USS Hammerhead (SS-364), USS Bream (SS-243), USS Seahorse (SS-304), USS Tinosa (SS-283), USS Pintado (SS-387), USS Mapiro (SS-376), USS Pipefish (SS-388), USS Moray (SS-300), USS Batfish (SS-310), USS Hackleback (SS-295), USS Bluegill (SS-242)
Submarines in Third Row from Top (Left to Right): USS Hawkbill (SS-366), USS Menhaden (SS-377), USS Perch (SS-313), USS Loggerhead (SS-374), USS Barbero (SS-317), USS Baya (SS-318), USS Hardhead (SS-365), USS Spadefish (SS-411), USS Springer (SS-414), USS Devilfish (SS-292), USS Kraken (SS-370), USS Dragonet (SS-293)
Submarines in Fourth Row from Top (Left to Right): USS Lamprey (SS-372), USS Piranha (SS-389), USS Manta (SS-299), USS Pargo (SS-264), USS Roncador (SS-301), USS Archerfish (SS-311), USS Mero (SS-378), USS Sawfish (SS-276), USS Spot (SS-413), USS Lizardfish (SS-373), USS Jallao (SS-368), USS Icefish (SS-367)
Submarines in Bottom Row (Left to Right): USS Steelhead (SS-280), USS Puffer (SS-268), USS Stickleback (SS-415), USS Trepang (SS-412)
Submarine Tenders on Right Side of Pier (Top to Bottom): USS Pelias (AS-14), USS Aegir (AS-23), USS Ayrale (AS-22), USS Griffin (AS-13)