MARQUETTE SUBMARINER MEMORIAL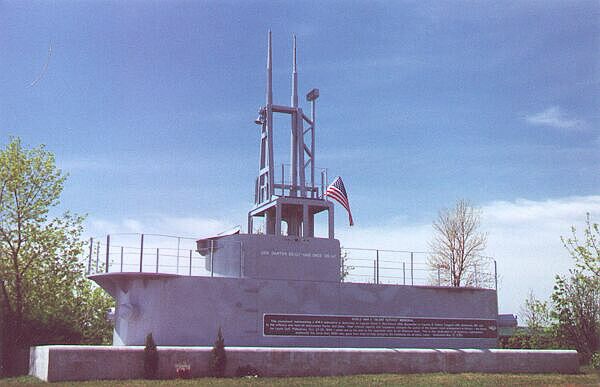 Note: In the near future, two 20mm guns will be permanently installed fore and aft on the top of the Memorial; a 4-foot wrought iron fence will surround it; and, finally, a Mark XIV torpedo from the Silversides Museum in Muskegon will be placed in front of the Memorial.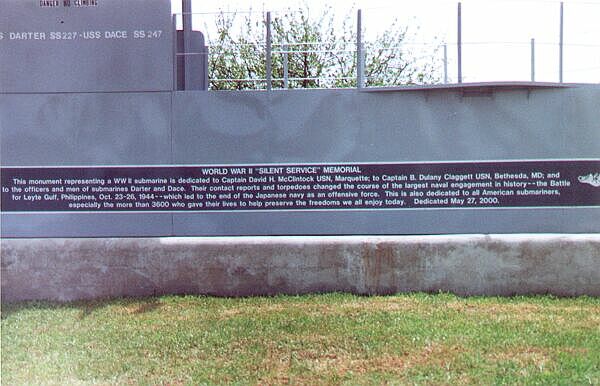 WORLD WAR II "SILENT SERVICE" MEMORIAL
This monument representing a WW II submarine is dedicated to Captain David H. McClintock USN, Marquette; to Captain B. Dulaney Claggett USN, Bethesda, MD; and to the officers and men of submarines Darter and Dace. Their contact reports and torpedoes changed the course of the largest naval engagement in history -- the Battle for Leyte Gulf, Phillippines, Oct. 23-26, 1944 -- which led to the end of the Japanese navy as an offensive force. This is also dedicated to all American submariners, especially the more than 3600 who gave their lives to help preserve the freedoms we all enjoy today. Dedicated May 27, 2000.
(Photos Courtesy of John Mansfield, RM2(SS), Menhaden, 1963-65)

CONSTRUCTION OF THE USS DARTER/DACE FAIRWATER/CONNING TOWER EXHIBIT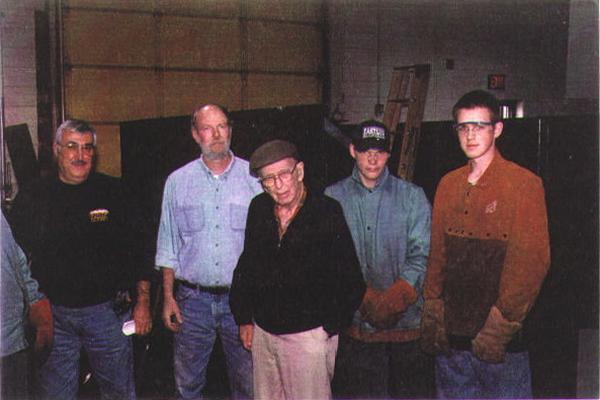 Early construction of the Gato-class submarine fairwater/conning tower at Northern Michigan University College of Technology and Applied Science. Left to right: William Ennett, designer; Carl Peterson, welding instructor; Captain David H. McClintock; and two of the many students who learned while building the conning tower. The first deck is in the background.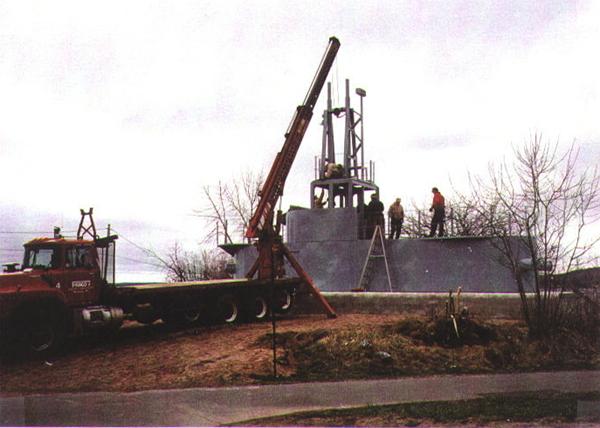 On Saturday, April 29th, 2000, volunteers are assembling the four parts of the conning tower on the bluff overlooking Lake Superior.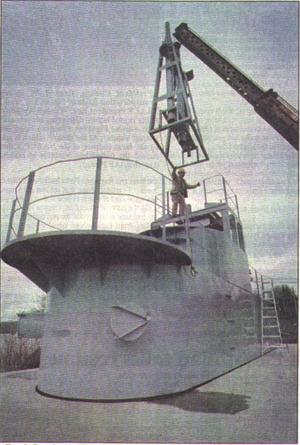 Frank Donckers, of the McClintock/Darter-Dace Recognition Committee, guides the last of four pieces into place for the fairwater/conning tower exhibit.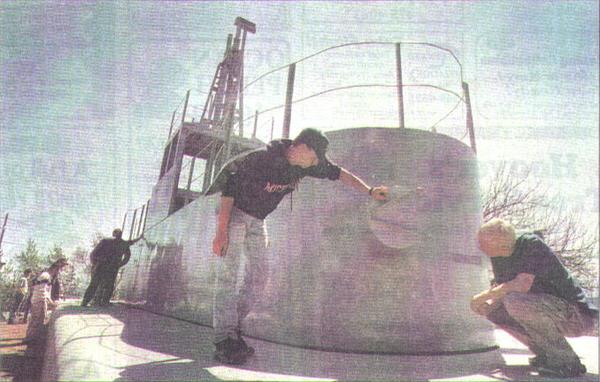 Marquette High School student Scott Goedert, 18, left, and Negaunee High School student Ryan Joki, 19, check out the Darter/Dace conning tower replica that they helped build in welding class. Twenty-six students in Carl Peterson's vocational welding class at Northern Michigan University visited the assembled structure on Tuesday, May 2nd, to see what the structure was like in one piece. The students from Marquette, Ishpeming, Negaunee and Superior Central High Schools, with the assistance of retired Cleveland Cliffs, Inc., fabrication engineering specialist Bill Ennett, built the structure over the past academic year with plans from the U.S. Department of Defense.
(Copyrighted Photos Courtesy of The Mining Journal newspaper, Marquette, MI; Journal Photos by Brian Halbrook)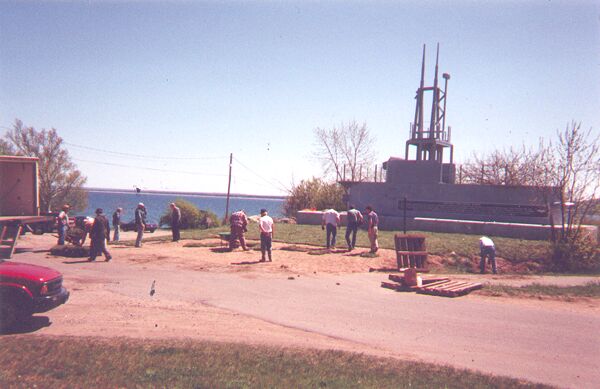 Volunteers from the McClintock Recognition Committee laying sod for the Memorial in early May.
(Photo Courtesy of Dr. Charles Wright, Co-Chairman of the McClintock Recognition Committee)