USS DARTER (SS-227)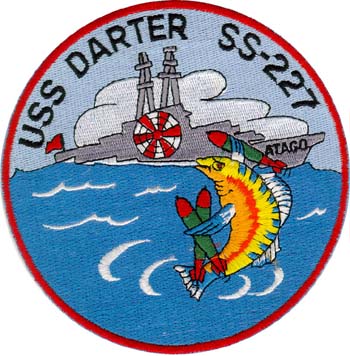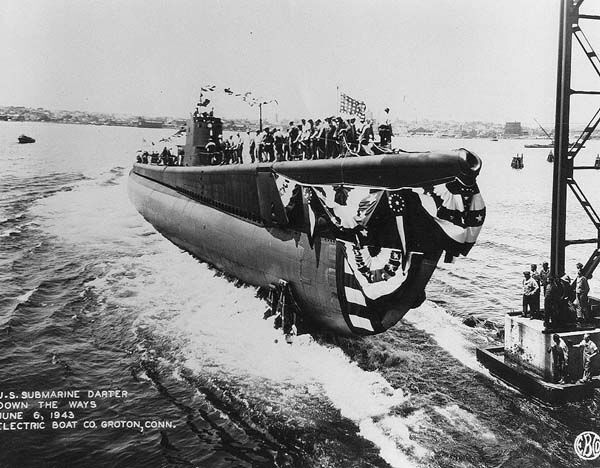 USS Darter (SS-227), "Down the Ways," June 6th, 1943.
(U.S. Navy Official Photo)
Gato Class Submarine
Displacement: 1,526 tons (surfaced), 2,410 tons (submerged)
Length: 311'9" Beam: 27' Draft: 17' (mean)
Propulsion: Diesel engines, surfaced; Electric motors, submerged
Speed: 20 knots surfaced, 8 knots submerged
Armament: Ten 21-inch diameter torpedo tubes (6 forward, 4 aft),
one 3-inch/50, two 50-cal. and two 30-cal. guns on deck
Test Depth: 300 feet
Complement: 78 (8 Officers, 70 Enlisted men)
The USS Darter's keel was laid on October 20th, 1942, at the Electric Boat Company, Groton, Connecticut. She was launched on June 6th, 1943, and sponsored by Mrs. Edwin B. Wheeler, wife of the Shipbuilding Manager of Electric Boat, who christened the new submarine.
Darter was commisioned on September 7th, 1943. A Commissioning Party was held on August 27th at Polly's Inn on Norwich Road in Groton, Connecticut. During the party, official photos were taken, which included: the Commissioning Crew and the Commissioning Crew, with wives and girlfriends.
COMMANDING OFFICER
Commander William S. Stovall, Jr.
OFFICERS
Lieutenant Charles R. Gebhardt
Lieutenant Ernest L. Schwab, Jr.
Lieutenant Walter M. Price, Jr.
Lieutenant Eugene P. Wilkinson
Lieutenant (jg) William T. Paseler
Ensign Edmund J. Skorupski
CHIEF PETTY OFFICERS
Shelby Turner, CGM, Chief Of The Boat
Osie W. Blanton, CTM
George W. Clarke, Jr., CRM
Chester R. Fitzjarrald, CTM
Junius A. Forbes, CQM
Thomas R. James, CMoMM
Alexander W. Gietek, CCS
Winefred G. Strother, CEM
Archie V. Victor, CY
Lyle G. Voss, CMoMM
ENLISTED MEN
Werner H. Alchenberger, Jr., MoMM2 James P. Allen, S1/c
Joseph F. Alligood, MoMM1
Gene H. Andrews, TM2
Grant E. Andrick, EM1
Floyd E. Angus, SC1
Paul S. Atkinson, TM3
Arnold W. Banzhaf, TM3
Thomas J. Bates, QM3
Edward J. Bell, EM2
Donald E. Benedict, FC3
Walter Bialas, MoMM1
Claude A. Boucher, SM2 Francis E. Bresette, F3/c Joseph B. Broskey, SC2
Ernest E. Carley, EM1 James W. Clepper, GM2 Frank H. Connell, QM3
Wendell B. Cook, EM1 William P. Cottongim, Jr., EM2 William Couch, F2/c
Edwin F. Crane, EM3 Quentin A. Curry, F1/c Charles E. Davis, MoMM1
Ernest C. DeCioccio, F2/c Clyde T. Dehner, F2/c Robert R. Dickson, TM2
Philip G. R. Dionne, MoMM2 Gordon K. Draga, S1/c Norman Dunn, TM3
Vincent W. Edinger, TM3 William E. Emmons, SC2 Frederick A. Faraone, TM3
Gerhardt E. Fleischer, MoMM1 Joseph B. Ford, TM1 James E. Gable, S2/c
Herman Garsh, TM3 Thomas W. Grenkowitz, PhM1 Ira D. Griggs, TM1
Richard C. Harden, S1/c Charles R. Hart, EM1 Samuel J. Henrietta, QM3
John H. Hewitt, RT2 Richard A. Hill, SM3 Harold K. Houser, SM2
Ray Huffman, S2/c William Jandris, TM2 Paul J. Jones, StM3c
Glenn M. Latham, Bkr1c Emanuel J. Lauria, EM2 Edward J. Malec, SM1
Charles R. Mathern, TM1 Lawrence E. Mattingly, RM3 Joseph W. Mayeux, SC1
Chester V. McCullough, StM3c John G. Murfry, RM2 James T. Murphy, EM3
John R. Nicola, RT2 Donald D. Park, MoMM1 William J. Powers, RM1
Arthur L. Roberts, RM2 Jesse M. Robinson, SC2 Robert B. Roth, RT2
William P. Sawyer, MoMM2 Robert F. Semmelrath, MoMM2 Walter F. Shattuck, TM2
Frank J. Shine, TM1 Hugh N. Siegel, RT1 Horace Sublett, Ck1
Frank A. Torres, MoMM2 Joseph L. Uken, EM2 Walter E. Virostko, GM1
Clinton J. Walp, S1/c Grady Whiteley, MoMM1 Andrew R. Williams, MoMM1

Darter left New London on October 31th, 1943, and arrived at Balboa, Panama, on November 11th. She departed the next day and arrived in Pearl Harbor on the 26th, where her crew continued training and necessary repairs were made to the boat.
FIRST WAR PATROL
On December 21st, 1943, Darter departed Pearl Harbor for her first war patrol. On Christmas Day, during a training dive to test depth, a serious leak developed in her after trim tank. She returned to Pearl Harbor and went into drydock. Once repairs were completed, she departed again on January 3rd, 1944, and after topping off her fuel tanks at Johnston Island, proceeded to her assigned reconnaissance area in the sea lanes off Eniwetok and to the south and west of Truk in support of the carrier aircraft strikes on that island.
On the 26th, Darter made her first contact with the enemy: two convoys. The first was two small merchantmen, accompanied by two escorts; the second was a tanker with two destroyer escorts. In both instances, no attack was made due to extreme range to targets, a shortage of fuel and persistent malfunctioning of the SJ radar unit.
Darter put into Tulagi on January 30th to take on fuel and fresh water. The master gyrocompass went out while in-port, so repairs had to be made to it as well. She was ordered to Milne Bay, New Guinea, on February 1st, and arrived there on the 4th. After installation of new radio equipment, a 40mm deck gun and further repairs on the gyro, Darter got underway again on the 8th and proceeded to a patrol area south of Truk.
On February 13th, she encountered a 7,500-ton merchant vessel, escorted by a modern PC boat and three converted trawlers. Darter maneuvered inside the escorts and fired six torpedoes from her bow tubes at the target from close range, which missed. She swung the stern around and fired four more from the stern tubes, one of which hit the target between the mast and the stern of the vessel. As Darter went to deep submergence, breaking up noises could be heard from the sinking target. For the next three hours, 21 depth charges rained down on the sub from the escorts.
A rendezvous was held with Dace in the early morning of February 25th, and together they entered Milne Bay, New Guinea, thus to end Darter's first war patrol that evening. Darter received praise from upper echelon commanders for her performance on her first patrol; however, due to the lack of definite confirmation data, did not qualify for the Submarine Combat Insignia, but her crew was awarded the Battle Star.
SECOND WAR PATROL
Darter got underway from Milne Bay on March 17th. The boat was assigned to head north to support operations where the Japanese were located off Guadalcanal. She was ordered to Finschhafen on the north coast of New Guinea, where Commander Stovall was briefed on a special mission on the 22nd, and training began the next day. The crew practiced for three days at getting the rubber boats out and putting the special teams of Army personnel ashore, who were to be inserted as coast watchers. Night drills, to simulate actual conditions, were conducted. When rehearsals were completed, Commander Stovall requested a bombing restriction because the Darter was going to have to operate on the surface at the point of disembarkation for the teams. A message came back in which General MacArthur replied, "No bombing restrictions. Darter would have to take her chances up there." After Stovall objected, the mission was canceled and the teams left the boat.
On March 26th, Darter began her second war patrol in the areas east of Halmehera. She made her first contact on the 31st, Fujikawa Maru, a 2,829-ton cargo ship, with a small patrol craft as escort. Under cover of darkness and a rain squall, Darter fired six torpedoes from the target's beam, five of which hit and exploded along it's length. The cargo ship's stern was blown off, it caught fire and sank. Four minutes later, the escort began vigorously dropping a total of 14 depth charges -- 5,700 yards away from Darter's position! She quietly slipped away on her batteries.
Darter then shifted to the south of Davao in support of the invasion of Truk. On April 6th, she spotted a task group of three cruisers and six destroyers, but could not get within range as they made an unexpected course change and increased speed to 22 knots. On the 17th, the sub had to make a quick dive to avoid an attack by an enemy aircraft, a large bomber.
Again, Darter went back to the area around Halmera, and patrolled there until she refueled at Port Darwin on April 29th. Returning to sea, she transited Manipa Straight and Molluca Passage when two tankers, accompanied by two destroyers, crossed her path on May 6th. Dawn spoiled the chance for a surface attack, and the targets escaped while she tried to approach at periscope depth.
For the remainder of the patrol, no more enemy ships were encountered, although the number of enemy aircraft sighted increased. On numerous occasions, the boat had to make quick dives to avoid attacks. Darter finished her second war patrol when she arrived at Manus, Admiralty Islands, on May 23rd. The patrol summary indicated 13 ship and 30 aircraft contacts were made.
THIRD WAR PATROL
Commander David H. McClintock reported on board the USS Darter on May 30th, 1944, as temporary CO, relieving Commander William Stovall, who had been criticized by some, after reading his action reports, for being overly cautious during combat approaches. When Commander Stovall became ill, Commander McClintock was assigned as permanent Commanding Officer of the Darter.
On June 21st, Darter got underway to begin her third war patrol. Her first contact was on the 26th, when she sighted a sub-chaser. Later the same day, a convoy, consisting of two freighters and three escorts, were sighted. A seaplane was also patrolling over the target, which kept the sub from attacking. Three days later, on June 29th, Darter received an alert from a coast watcher. In the afternoon, she was patrolling submerged off Moratai Island near Biak when a minelayer with two escorts and a scout plane searching ahead came into view. It was Tsugaru, a 4,400 ton minelayer. Darter approached, then fired six torpedoes from her bow tubes. She heard two hits, which stopped the ship, then loud breaking up noises were heard as Darter went deep to avoid the 24 depth charges the escorts dropped. No damage was done to the boat, so later that day she resumed her patrol to the northwest of Moratai Island and progressively to the west toward Mindanao.
On July 13th, a patrol boat was sighted and avoided. On the 21st, a tanker with six small escorts was detected and sighted, but the Darter could get no closer than 6,500 yards before she decided to break off the attack. The convoy had gone out of reach as enemy aircraft prevented her from surfacing to pursue it.
On the 26th of July, after patrolling the Zamboanga-Davao shipping route without contact, Darter set a course for Manus. The sub tied up at Manus on August 1st, and four hours later proceeded to Brisbane, Australia, where she arrived on the 8th. She had a total of eight ship contacts and 45 aircraft contacts on the patrol. Darter was awarded the Submarine Combat Insignia, and Commander D. H. McClintock was awarded a Bronze Star Medal for sinking the Japanese minelayer Tsugaru.
(Note: The above information is from John G. Mansfield, Jr.'s book, "Cruisers for Breakfast."
Copyright, October, 1997)
FOURTH WAR PATROL
On September 1st, 1944, the USS Darter, under the command of Commander D. H. McClintock, cleared Brisbane for a period of training enroute to her fourth and last war patrol. She searched the Celebes and South China Seas, returned to Darwin to fuel and make minor repairs 10 September, and put back to the Celebes Sea. She put in to Mios Woendi 27 September for additional fuel, and sailed on 1 October with Dace (SS-247) to patrol the South China Sea in coordination with the forthcoming invasion of Leyte. She attacked a tanker convoy on 12 October and on 21 October headed with Dace for Balabac Strait to watch for Japanese shipping moving to reinforce the Philippines or attack the landing forces.
In the outstanding performance of duty which was to bring both submarines the Navy Unit Commendation, Darter and Dace made contact with the Japanese Center Force approaching Palawan Passage on 23 October 1944. Immediately, Darter flashed the contact report, one of the most important of the war, since the location of this Japanese task force had been unknown for some days. The two submarines closed the task force, and initiated the Battle of Surigao Strait phase of the decisive Battle for Leyte Gulf with attacks on the cruisers. Darter sank Admiral Kurita's flagship Atago, then seriously damaged another cruiser, Takao. With Dace, she tracked the damaged cruiser through the tortuous channels of Palawan Passage until just after midnight of 24 October when she grounded on Bombay Shoal. As efforts to get the submarine off began, a Japanese destroyer closed apparently to investigate, but sailed on. With the tide receding, all Dace's and Darter's efforts to get her off failed. All confidential papers and equipment were destroyed, and the entire crew taken off to Dace. When the demolition charges planted in Darter failed to destroy her, Dace fired torpedoes which exploded on the reef due to the shallow water. As Dace submerged, Darter was bombed by an enemy plane. Dace reached Fremantle safely with Darter's men on 6 November.
In addition to the Navy Unit Commendation, Darter received four battle stars earned during her four war patrols, the last three of which were designated as "successful." She is credited with having sunk a total of 19,429 tons of Japanese shipping.
(Note: The information above for Darter's Fourth War Patrol is from the Dictionary of American Fighting Ships. Transcribed by Yves HUBERT.)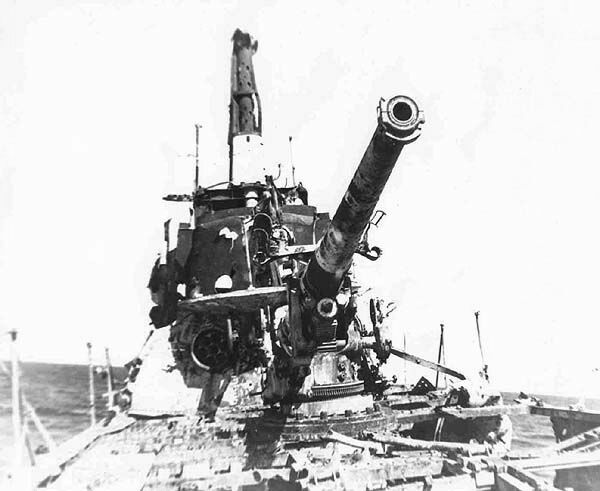 USS Darter after receiving 55 point-blank hits from the 6-inch deck gun of the USS Nautilus (SS-168) on October 31st, 1944. Her Commander noted, "It is doubtful that any equipment in DARTER at 1131 this date would be of any value to Japan -- except as scrap."
(U.S. Navy Official Photo. Photo Courtesy of Ron Reeves, HTC, USN, Retired)