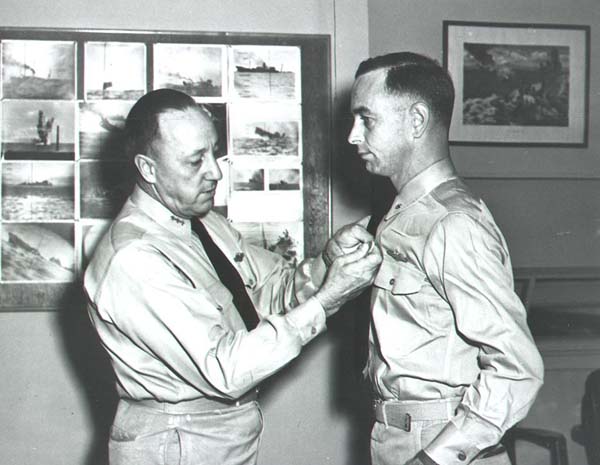 Admiral Charles Lockwood pinning the Bronze Star Medal on Commander David H. McClintock, Commanding Officer of the USS Darter (SS-227), for sinking the Japanese minelayer, IJN Tsugaru, on June 29th, 1944.
Captain McClintock received the Bronze Star Medal from Secretary of the Navy, John L. Sullivan, "For heroic service as Commanding Officer of the USS Darter during the Third War Patrol of that vessel in enemy Japanese controlled waters from June 21 to August 8, 1944. Demonstrating expert seamanship and determination, Commander McClintock launched a torpedo attack which resulted in the sinking of a forty-four hundred-ton
enemy minelayer. In addition, he skillfully maneuvered his ship to evade severe depth-charge counterattacks
and brought the Darter safely to port. His inspiring leadership, courage and devotion to duty were in keeping
with the highest traditions of the United States Naval Service." He was authorized to wear the Combat "V."
(Photo Courtesy of John Mansfield, Jr., RM2(SS), Menhaden, 1963-65; and, the above information is from John Mansfield, Jr.'s book, "Cruisers for Breakfast." Copyright, October, 1997)