USS MENHADEN (SS-377) VS. USS GURNARD (SSN-662)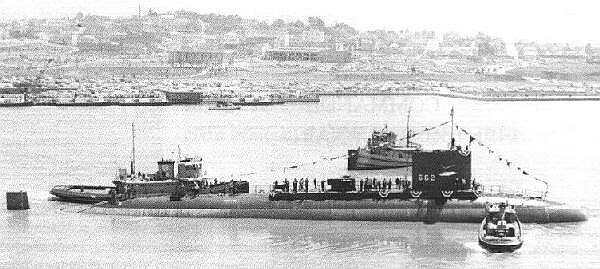 USS Gurnard (SSN-662), fast attack nuclear submarine, commissioned on December 6th, 1968
A TRUE DBF! (DIESEL BOATS FOREVER!) STORY
FROM S. L. "LES" GUILLE, MENHADEN'S LAST COMMANDING OFFICER:
While I was on Menhaden, we worked very hard, especially at sea, but we took time to have some fun, also.
Once, in January of 1971, we were assigned during local ops in San Diego to act as an enemy submarine to the USS Gurnard (SSN-662) while she was doing her workup to deploy to WestPac.
We were to run submerged on assigned courses, snorkeling at pre-determined times on assigned tracks. Gurnard did not have our op-plan, but she was to try to track us, fire simulated torpedoes, and then open out and regenerate the problem until the end of the exercise. Before we left port, I told my DIVCOM that we would make more successful attacks on Gurnard than her Skipper, Commander Bobby Bell, would on us. He bet me a martini for each successful attack.
At sea we would snorkel as planned, then shut down according to schedule. Each time Gurnard would detect us, then turn to close for the attack. When we shut down and ran on the battery, Gurnard would lose us and roar by. Then, I would order a single ping on the fathometer. When Gurnard heard that, they would turn toward us. By then we had an attack solution, and would simulate a torpedo launch.
We did this repeatedly throughout the exercise . . . Gurnard never laid a hand on us! When we got back in port, I collected my four martinis from the DIVCOM.

Shortly after, we received a poem from the Gurnard Torpedo Gang written to memorialize the event.
Written by
the
Torpedo Gang
USS GURNARD (SSN-662)
We don't know, but we've heard tell,
The MENHADEN's shooting is mighty swell.
It sure likes to go after big black Nucs,
It has been said they hate those pucs.
Now it is said the diesels are being replaced,
So they are trying to put us to disgrace.
Now we all know the diesel boats smell,
But, we'll have to admit their shooting is swell.
We know one thing, and we know it for sure,
Our solution has got to find the cure.
We had better hurry and find it fast,
Or the MENHADEN will have our ass.
Now the diesel boats enjoy liberty and play,
But they were doing some fine shooting today.
Now on the GURNARD the liberty is none,
and the MENHADEN still has us under the gun.
The Captain is grim, he is wearing a frown,
Because he found out those diesel boats don't mess around.
We hope the Captain will smile again real soon,
Then we do our thing to the MENHADEN before noon.
Now it is noon, the Captain still wears a frown,
Because the MENHADEN shot us down.
Not just once, not just twice,
But four times and that isn't nice.
We're not up to par,
In fact we leave a lot to be desired.
But when we have to meet the test,
We all know the GURNARD can field-day BEST.

One night after Gurnard returned to port, one of the Menhaden crew (SK2 Steve Rose) put on a wetsuit and quietly swam over to where Gurnard was moored (alongside the Nereus), pushing a cardboard box containing a can of white paint and a paint brush. Completely undetected, he painted "DBF" in big white letters on Gurnard's upper rudder, then swam back to Menhaden, pushing the little box ahead of him.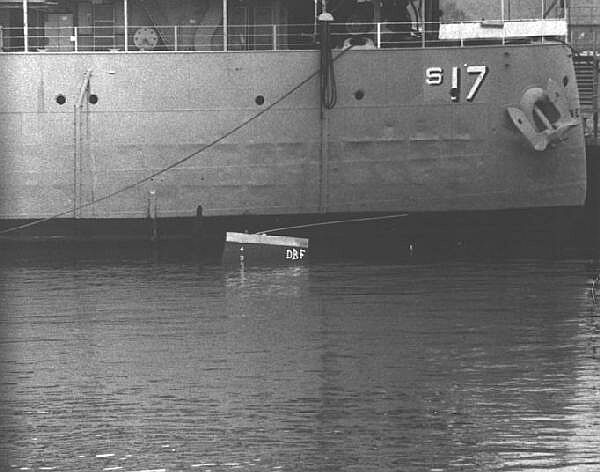 "DBF" painted on the upper rudder of the USS Gurnard (SSN-662)
I used to present "Menhaden DBF Awards" for such brave deeds (as long as they were harmless!), so at the end of a real Awards Ceremony, when I had asked the Squadron Commander (Commodore Clifford then) to present the awards, I gave a "DBF Award" to the "Stealth Swimmer," much to the Commodore's surprise!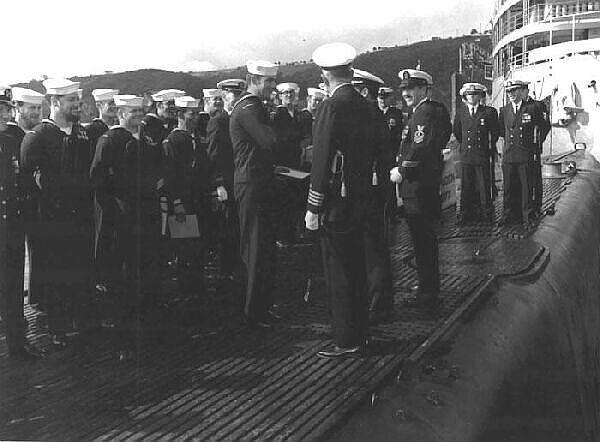 Commander S. L. "Les" Guille presenting the "DBF Award" to Steve Rose, SK2(SS).