THE DBF FLAG CAPER
FROM S. L. "LES" GUILLE, MENHADEN'S LAST COMMANDING OFFICER:
On the occasion of the Enlisted Submarine Birthday Ball at the El Tampico Club in Imperial Beach, California, on 17 April 1971, three Menhaden Crewmen "liberated" a DBF Flag being flown over the table of either the Diodon (SS-349) or the Caiman (SS-323). Because I was attending the Ball as a guest of the Menhaden Crew, I witnessed the daring deed in its totality!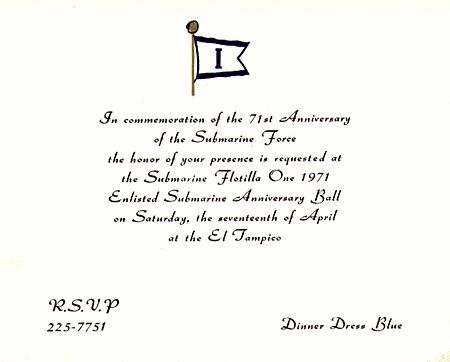 Commander Les Guille's Submarine Birthday Ball Invitation
The Flotilla Chief of Staff, and the Commanding Officer and Crew of the victim boat were incensed and demanded to know the identities of the liberators, who had escaped with the flag completely undetected.
I recognized who the perpetrators were, but kept my mouth shut. However, at Quarters later on, I rewarded John Joseph Robillard, FT3(SS), Daniel Colby Tostevin, EN3(SS), and Christopher Vincent, MM3(SS) each with DBF Letters of Appreciation.
We had a Menhaden Decommissioning Picnic at which the Crew presented me with the "liberated" DBF Flag, which I still have.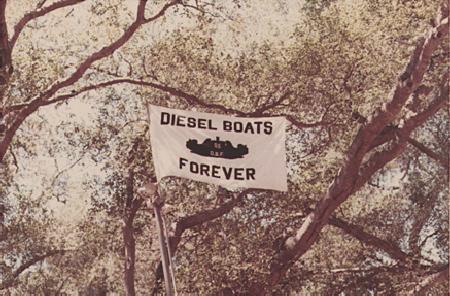 The "Liberated" DBF Flag at the Menhaden Decommissioning Picnic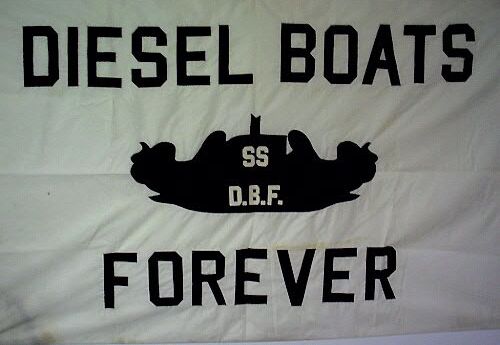 The "Liberated" DBF Flag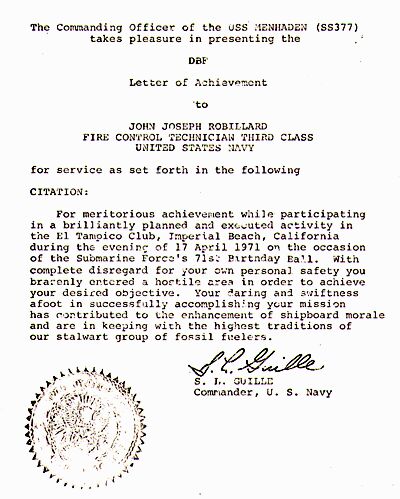 DBF Letter of Achievement Presented to John Robillard, FT3(SS)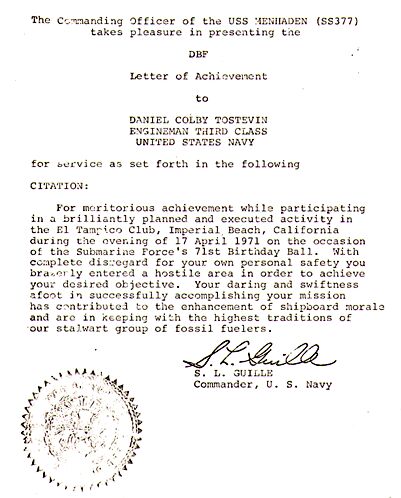 DBF Letter of Achievement Presented to Daniel Tostevin, EN3(SS)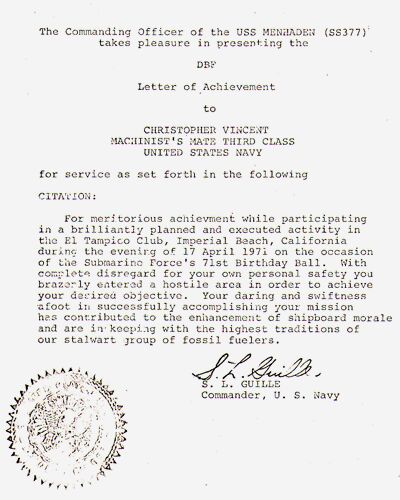 DBF Letter of Achievement Presented to Christopher Vincent, MM3(SS)