SUBMARINES AND TARGETS
FROM WILLIAM S. "BILL" WALTERS, IC2, USS RAMSEY (DEG-2):
I was privileged to spend one day on the USS Menhaden (SS-377). I was an IC2 on the USS Ramsey (DEG-2), transferred by helo to the Menhaden on a crew exchange, August, 1968. As I recall, Ramsey was ASW coordinator for the South China Sea. Menhaden was being used in training/penetration of the ASW Task Force, which included one ASW carrier, the USS Bennington (CVS-20).
Here is a color photo of the Menhaden that I took prior to my boarding. She is within hailing distance of the Ramsey, backing down on diesels, in fairly mild seas, with three personnel on deck.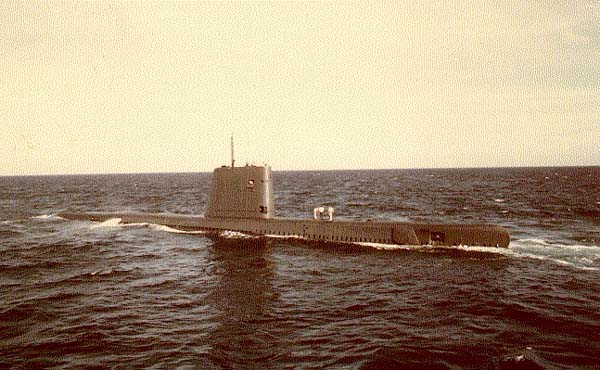 USS Menhaden (SS-377)
I found a distressing B&W photo in our 1968 Cruise Book for the USS Ramsey (DEG-2), during her first WesPac. A periscope shot of my ship, taken from the Menhaden!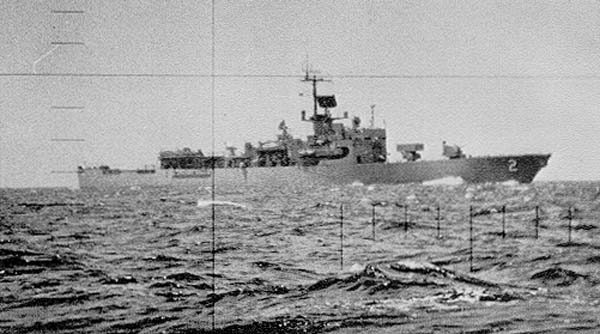 USS Ramsey (DEG-2)
As we say in the Silent Service, "There are only Two Types of Ships: Submarines . . . and Targets!"
Thanks for sharing these photos, Bill! Your Ship sure is a "Beautiful Target!"
(Images Courtesy of William S. "Bill" Walters, IC2, USS Ramsey (DEG-2), 1967-69)