BUDDHA
COMMENTS BY FRANK RUMA, TM1(SS), LEADING TORPEDOMAN IN THE FORWARD TORPEDO ROOM OF THE USS DARTER (SS-227), OCTOBER 23-24, 1944.
I boarded the Darter in Brisbane, Australia, from the relief crew there as a TM1(SS) after her first patrol, in March of 1944. I was assigned the Forward Torpedo Room. I made the 2nd, 3rd and fatal 4th war patrol on her.
When I went aboard Darter and went down to the Forward Torpedo Room, there I saw sitting on top of the TDC
between the 6 torpedo tubes an ugly looking statue of Buddha. It was a huge Buddha, more that 12 inches in height with a huge exposed belly sitting crosslegged. When going into general quarters and battle stations all the FTR
Torpedomen would rub the Buddha's belly for luck. It irritated me to no end and I never accepted doing this.
After the Darter ran aground and we tried desperately to get the ship off the reef with no success, I was ordered by Walt Price, Torpedo Officer at that time, to pull the torpedo out of tube #3, which is at deck level and remove the exploder. The Chief of the Boat, Red Turner, who was a Chief Gunner's Mate, was to rig an explosive device into the warhead of the torpedo with a timer and have it detonate the warhead after we left the ship to board Dace.
Soon after that, we were told to destroy all confidential materials and that we would abandon ship and board Dace. Then, we systematically destroyed all other materials that might have been of use to the Japanese who would soon board her.
The first thing I did was to grab the sledge hammer hanging on the bulkhead going into the Forward Battery Compartment from the Forward Torpedo Room and SMASHED the Buddha by striking it on the top of its head. I suppose it was a beautiful piece of art and made of ceramic or such materials and probably worth a lot of money. I had always thought it to be a jinx. Dumb huh? Well, that is the way I felt.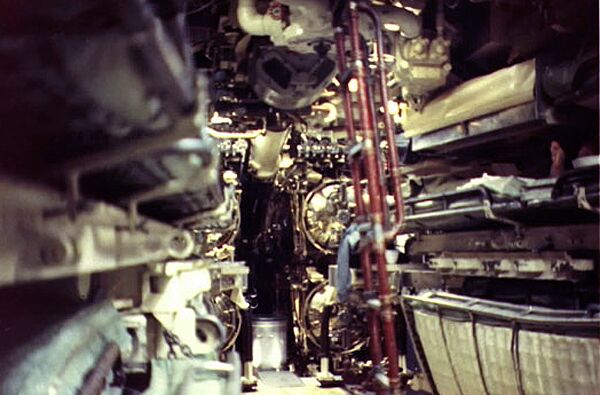 For Reference, The Forward Torpedo Room of the USS Menhaden (SS-377) in 1968.